Welcome to the TrueFLIX preview! The Office of Commonwealth Libraries is adding TrueFLIX to the roster of e-resources available in POWER Library for Pennsylvanians. Access to Scholastic's TrueFLIX will officially begin on July 1. However, a two-month preview is currently available for library staff to preview TrueFLIX content and to check out the "Resources & Tools" link, which offers lesson plans, quizzes, and an overview of all the available TrueFLIX resources.
Select the TrueFLIX image to preview TrueFLIX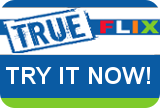 Each TrueFLIX title includes the following elements:
Watch the Video: A streaming video that engages the student and introduces the topic. The video is strategically placed—and supported by reading research—to enable the student to build crucial background knowledge before accessing the book.
Read the Book: A flipbook version of the True Book with page-turning and read-along features, chapter tabs, and vocabulary terms identified and defined. The "book" has been transformed into a versatile digital resource enabling the student to exercise the nonlinear reading and viewing behaviors that we know take place with digital content.
Explore More: Related content that provides opportunities for further research and reading across a variety of text types. Includes one or more of the following: fiction, primary-source documents, related articles from Grolier Online. This section also helps students with a key competency—gathering and synthesizing accurate and related information in one place—a crucial 21st Century Skill.
Lesson Plan: Every TrueFLIX topic is accompanied by a lesson plan with teaching activities that are tied to the specific content of that TrueFLIX topic. Every lesson plan includes a discussion of the TrueFLIX video and a review of vocabulary words used in the TrueFLIX flipbook. Each also provides a small-group activity based on the flipbook and a project idea.
Project Idea: For beginning researchers, this includes a project goal and ideas or questions on how to kick-start research—perfect for a class activity or homework assignment.
Activity Center: Includes a "Show What You Know" 10-question multiple-choice quiz, and a Word Match game based on the important words included in each title. Teachers and librarians can utilize the quizzes as soft assessments to gauge a student's understanding of the content.
Explore the Web: Related Web links to help further extend learning, broaden the content area, and provoke further research.